Kai BUMANN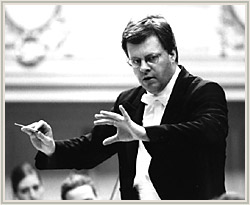 Kai Bumann was born in 1961, in Berlin. He studied conducting at the High School of Art, where he also played piano for the song interpretation classes given by D. Fischer-Diskau and A. Reimann. From 1986 he worked in various German theatres – first as a pianist and later as a conductor.
In the 1992/1993 season Kai Bumann took charge of the Music Theatre in Detmold, where he was musical director for the premieres of such operas as Lady Macbeth of Mtsensk (D. Shostakovich), Salome (R. Strauss) and Lulu (A. Berg). In 1996 he was First Conductor at the State Theatre in Wiesbaden (musical realisation of Die Zauberflöte, Rossini's Il Barbiere di Siviglia, Aida and Tosca). In 1997 he was appointed Artistic Director and First Conductor of the State Opera in Cracow, where he prepared the music for Die Zauberflöte, Don Giovanni, Un Ballo in Maschera and Die schwarze Maske by K. Penderecki. Since 1998 he has appeared each season at the Deutsche Oper in Berlin, conducting such operas as Die Zauberflöte.
In 1994 Kai Bumann won second prize in the International Conductors' Competition in Geneva, and shortly afterwards began intensive concert work in Poland, which he carries on regularly in all the more important musical centres. In 1996 he was named as First Guest Director of Gdansk Philharmonia, where he has conducted, inter alia, a Beethoven cycle and – during the city's 1000th anniversary celebrations – Penderecki's St Luke Passion. In 1997 he became Chief Conductor of the Swiss Youth Symphony Orchestra, and in 2001 made his first appearance with the Tonhalle Orchestra in Zurich.
In 2003 he prepared the premiere of Verdi's Falstaff at the Warsaw Chamber Opera, where in 2004 he became permanent conductor.